Hello and welcome to my site. I started DJ'ing in 1994 in my hometown in Ossendrecht. I had to play on parties which were held once in a month. My DJ name was at that moment The General. These were a success in Ossendrecht, and also for myself, so I had a chance to play at a club in Bergen op Zoom.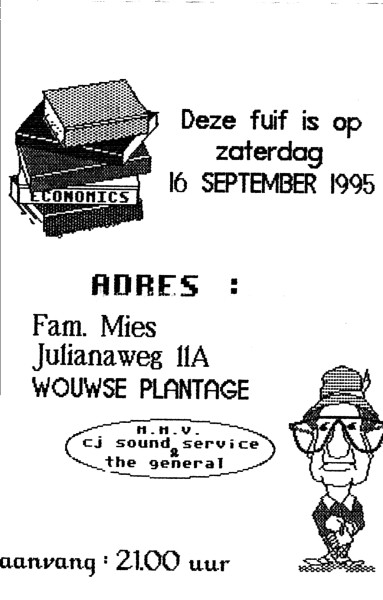 At that time I had also made contact with some Drive in Shows like Skylight and C.J. Sound Service. When they had a Disco / Dance party they asked me to play for them. In that period (1997 -1998) I made also mixes for a local radio station Z FM broadcasting in Zundert. After 4-5 years I stopped with the club in Bergen op Zoom, because I had several parties a weekend, and a girlfriend, also I felt I had to change to something different. Now there was more space for different party's, also disco party's with music from the 70ies, 80ies and 90ies.
Then the Lazer Hot Hits website started in 2001, and I was one of the first DJ's which played mixes on that Internet radio station. I was always a big fan of that radio station in the early 90ies, (you can read some info about Lazer here.) and now I had the chance to play on that radio station.
Now you can see me at several location, for example:: Rainbow Hoogerheide, Teerkamer bergen op Zoom, Lachende Vos Bergen op Zoom, D-Fusion Parties @ Bergen op Zoom and more... Also on the radio, read below for more information !!!
Name: Gino Vriens
Birth: 17 June 1976
Lives in: Ossendrecht
Hobbies: (mixing) Music, Mixfreaks,
DJ Since: 1994
Music / style: House, Club, Techno Trance, Retro (not the cheap ones), Disco, 80ies, Ambi, and sometimes even harder (Bonzaaaaiiiii)
Favorite Club: La Rocca, Café D' Anvers
Favorite Radio Station: Lazer Hot Hits, Veronica
Favorite DJ: Ben "Mastermixer" Liebrand
Favorite TV Series: Dukes of hazzard, A-team, Knight Rider, Pretender
Favorite Movie: Terminator, X-men, The Matrix, that kind of stuff
Favorite Records: Ramirez - La Musica Tremenda, CJ "Ravesignal" Bolland - Horsepower, The B Sides - Vol IV EP, Lhasa - The Attic and Taurus, Messiah - There Is No Law (Joey Beltram Mix), Robert Armani - Circus Bells and Music Man, Dave Angel - Bounce Back, Trip To Darkness and This is Disco, Several tracks from Kevin Saunderson and a lots of others...
Favorite Car: Dodge Charger 69 (The General Lee !)
Favorite Woman: Many !!!
Contact Info / bookings /etc : Just Mail me for details !!!